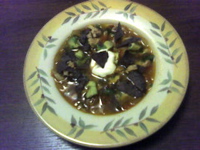 We made Mexican Turkey Soup tonight with our stock and carcass meat.
I liked this soup, but I didn't love it. There was too much broth for the amount of 'stuff' in it — we had to scoop the turkey and veggies into the bowls with a slotted spoon to get the balance right.
Before portioning out the leftovers, I ladled off 2 cups of turkey/tomato/chipotle broth (out of the original half-gallon of stock, plus the tomato liquid) and froze it separately for later use. The remaining bowls seemed closer to the mark. It also needed a lot more salt than the recipe called for. It's a nice, easy weeknight recipe, and a nice way to use up turkey. It was reminiscent of tortilla soup, but not as good.