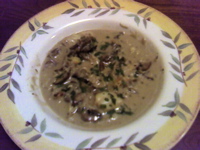 Tonight we made Crab & Crimini Bisque — What a disappointment! Expensive, time-consuming, and ultimately blah. There were too many mushrooms and way too much crab for the amount of soup… the garnish was overwhelming.
Also, they didn't have you season as you went — only asked for salt & pepper at the very end — so the whole thing was flat and bleh. Too fishy and stringy from the crab, too.
It looks better than it tasted, and frankly it didn't look very good. If I'm in the mood for a creamy mushroom soup, I'm fairly sure I will stick to
Bourdain's version
in the future.