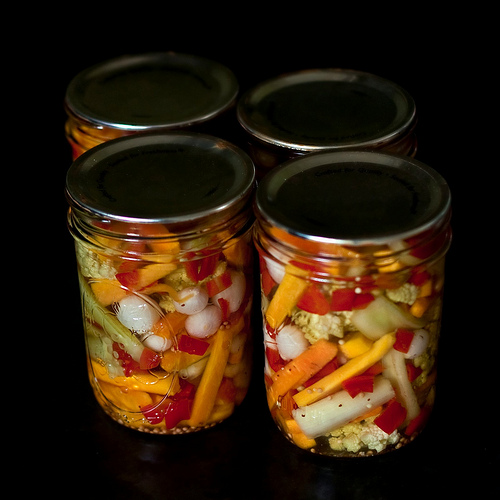 Trying to plan a suitable entry for this month's CanJam — the theme is alliums — left us a little perplexed. It's not that we haven't been known to preserve onions: I'm a big fan of the bright-pink Yucatecan pickled onions served with cochinita pibil, and Cameron has a special fondness for English-style pub onions.
But because we prefer them very crisp, we usually make both of these recipes as refrigerator pickles. (Processing seals the jars and kills any lingering toxins, but it also cooks whatever's in the jar.) Neither of us really cares for sweet condiments with our savory dishes, so onion jams were out.
Then it occurred to me: Giardiniera.
Now, strictly speaking, onions are just one of this Italian-style pickle's many components, but the little devils take an ungodly amount of time to prep, way more than all of the other parts combined. First you have to slice off the hair-like root end, but oh-so-carefully so as to not dislodge the onion's layers from one another. Then you have to peel each tiny onion — no mean feat when natural sugars keep papery skins adhered firmly to outer layers of the onion's flesh — without cutting them in half or otherwise mangling them.
It's a labor of love, I tell you, but it's all worth it when you open up that first jar and taste. The onions are integral part of giardiniera, the linchpin of its piquant flavor.
Giardiniera means "gardener" in Italian, the implication being that this hodgepodge of different vegetables would be a great way to preserve the bounty of an active kitchen plot. But its traditional components — red peppers, carrots, celery, onions, and cauliflower — are never simultaneously seen in abundance in any garden I've ever known. Even in Italy, I think you'd be hard-pressed to find red peppers and cauliflower in the same patch. (I did a little research on how this seasonal impossibility got its start, and came up empty; if anyone knows how these ingredients ended up in a single pickle, I'd love to hear!)
Other than the peppers, though, we're able to get everything we need from our own garden, or nearby farmers, even in late winter. In place of the bell peppers, I used a bunch of skin-on piquillo peppers I'd stashed in the freezer last summer, but added them to the mixture just before portioning the cooked vegetables into the jars, to avoid softening them any further. Their texture wasn't so hot, but they're mostly there for color, anyway. Next year, I might just — shhh! — buy an imported pepper or two.
Giardiniera (Italian-style Pickled Vegetables)
– adapted from Sunset Canning, Freezing, and Drying
1/2 pound carrots*
1/2 pound celery*
2 red bell peppers
1 large cauliflower or romanesco
1 pound small white pearl onions
1 cup pickling salt
2 quarts white vinegar
1/4 cup mustard seed
2T celery seed
1 small dried hot pepper
1-1/2 cups sugar
Peel carrots, then cut into 1-1/2-inch by 1/4-inch sticks; you should have about 4 cups*. Remove strings from the celery, then cut into into 1-1/2-inch by 1/2-inch planks; you should have about 3 cups*. Stem and seed the peppers peppers, then cut into wide strips. Break the cauliflower into florets; trim the stems. Carefully peel the onions, leaving the root intact. Try not to swear.
In a very large bowl, dissolve the pickling salt in 4 quarts cold water. Add the vegetables to the brine, and refrigerate for 12 to 18 hours. Drain the vegetables, rinse in cold water, and drain again.
Prepare canner, lids, and 6 pint jars according to the usual method.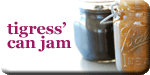 Combine the vinegar, mustard seed, celery seed, chili pepper, and sugar in a 6-quart stainless or enamel pan. Bring to a boil and continue to cook for 3 minutes. Add the vegetables, reduce heat to low, and cook for a few minutes until the vegetables just begin to soften. Remove from heat and discard the chili.
Using a funnel, pack vegetables into hot jars up to just shy of 1/2 inch of the rim. Ladle hot pickling liquid to cover vegetables, leaving 1/2-inch headspace.
Remove air bubbles and adjust headspace; wipe rims and apply lids and rings.
Place jars in canner, ensuring they are completely submerged. Bring to a boil and process covered for 5 minutes. Remove canner lid; wait 5 minutes, then remove jars. Cool, check for seals, and store in a cool, dark place for up to a year.
—
* Note: After reading comments from a friend and long-time reader, I suspect that my weight-to-volume measurements are incorrect here. Please see this comment and this follow-up.