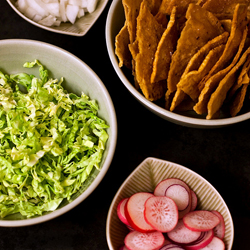 To take the chill out of winter, I like to make a big pot of pozole, the traditional Mexican pork stew. It's one of those meals that leaves you feeling warm inside, even hours after you've finished dinner. I was feeling deprived that I hadn't gotten around to it yet; I'd been waiting for a lazy weekend to appear, when a long Saturday might give me enough time to tackle the various steps.
I'd bought the hominy and the dried chiles, even squirreled away a particularly meaty piece of pork, but didn't get around to actually putting the stew together until it was time to make this week's Dark Days Challenge meal.
Pozole verde, the version made with tomatillos and green chiles, is a staple in our house. But the deeper, complex brick-colored rojo style isn't something we've made as often. Local dried chiles are significantly more expensive than the fresh varieties, but in the winter, when cooking with green chiles means dipping into our precious freezer stash, it doesn't seem so profligate to splurge on a few dried anchos.
Steve Sando — who knows a few things about new-world grains — says that "in America, the [prepared] corn and the finished dish are called posole. In Mexico, only the finished dish is called pozole." But I'm not fussy. Green or red, with an S or with a Z… I'm an equal opportunity pozole-loving fool.
Pozole is typically fiesta fare, so most recipes serve a crowd. At the moment, we're short on freezer space, so we scaled this recipe to make just one dinner for two plus a pair of lunch-sized leftovers.
Pozole Rojo – Red Pork and Hominy Stew
- adapted from Mexico One Plate at a Time
1/2 pound dried corn prepared for pozole (such as Rancho Gordo White Corn Posole)
5 cloves garlic, peeled and halved
1 meaty piece of bone-in pork, about 1.5 pounds
- (we used shank; shoulder steaks are also good)
1 small pork trotter
1 white onion, chopped (divided use)
3 medium ancho chiles, stemmed and seeded
2 cups shredded green cabbage
5 radishes, sliced
1T dry Mexican oregano
2 tsp ground dried hot chile (optional, to taste)
thick tortilla chips or tostadas
In a large pot, combine 2 quarts of water with the hominy and garlic. Bring to a boil; partially cover the pot and simmer gently until the corn is thoroughly tender, 2 to 3 hours; many will split open. Season with salt and cool in the liquid.
While the corn simmers, place the pork and trotter in another pot; cover with water, add 2 tsp salt, and bring to a boil. Skim off any foam that rises to the surface, then add half of the chopped onion. Simmer over medium-low heat, partially covered, until all of the meat is tender, at least 2 hours. Cool the meat in the broth, then remove it to a plate. Skim the fat from the broth, or cool overnight and remove the solidified fat the next morning. You should have about 3 cups of broth. Pull the meat off the bones and chop into 3/4-inch shreds. (There may not be much usable meat on the trotter, but it's there mostly for body and texture; you can discard the chewy bits unless you're feeling muy macho.) Depending on the cut of meat you used, you'll have anywhere from 1 to 2 cups of meat.
Soak the ancho chiles in enough hot water to cover, for about 20 minutes. Puree the chiles and their liquid in a blender. When the corn is tender, press the chile puree through a medium-mesh sieve into the corn broth. Add the pork broth, shredded meat, and 3/4 tsp salt; partially cover, and simmer 1 hour. (At this point, the stew can — and ideally should — be cooled and refrigerated for a day or two; its flavor improves with time. Reheat to a simmer before serving.)
Before serving, check consistency. (Bayless says "The stew should look hearty — chock-full of hominy with bits of meat — but brothy enough to be thought of as a soup or brothy stew.") If necessary, add unsalted chicken stock or water to return to the correct thickness. Taste and adjust salt.
Set out bowls of condiments — the remaining chopped onion, shredded cabbage, sliced radishes, oregano, ground chile, and tostadas — on the table for each diner to add to their bowl as they like.
Makes 4 servings
---
Farmers and food artisans who created the ingredients for this week's meal: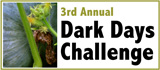 Iacopi
, Half Moon Bay: garlic
Catalán Family Farm
, Hollister: onions
Tierra Vegatables
, Santa Rosa: ancho chiles
Dirty Girl Produce
, Santa Cruz: green cabbage & radishes
Marin Sun Farms
, Point Reyes: pork trotter
Rancho Gordo
, Napa: dried hominy, ground red chile, Mexican oregano
Shasta Valley Farm
, Gazelle (via
Live Culture
's Pork Prom): Mangalitsa pork shank
Primavera
, Sonoma: Corn tortillas (for homemade tostadas)
Guisto's Vita-Grain
, South San Francisco: sea salt