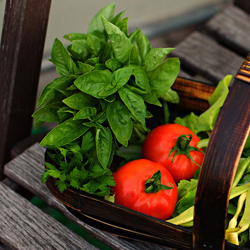 Years ago, I knew a guy who fancied himself a gourmet cook, even though his culinary skills were marginal at best. His one saving grace, kitchen-wise, was his signature pasta dish: Linguine combined with mozzarella — right in the hot pasta pan, so it got all stringy — then tossed with ripe tomatoes, loads of garlic, and a bunch of basil.
It was a good meal, even great when the seasons were right, but its real charm was its artlessness: No measuring, no fancy technique; just good food, simply prepared.
Even though tomatoes, mozzarella, and basil is a classic summer combination, I hadn't thought of this pasta for years until I read our friend Jennifer's post last week, where she described a remarkably similar dish. Her version keeps the cheese separate until the end, uses a combination of Mediterranean herbs, and omits the garlic. In a way, it's a lot like seeing an old friend again after a long absence: A few things have changed, but the basic features are unmistakable.
For this week's One Local Summer dinner, we whipped up a batch this new/old favorite, using some of the first tomatoes from our garden, along with basil, parsley, and chives from the herb beds. We used our favorite local pasta from Eduardo's, a dense, wheaty fusilli. If you use a similar hearty pasta, this recipe makes four generous servings.
Pasta alla Jenblossom
– adapted from Last Night's Dinner
4 to 5 ripe tomatoes (enough for 4 cups coarsely chopped)
~1 cup fresh herbs, coarsely chopped (I used 3/4 cup basil, 1/4 cup parsley, 2T chives)
2 cloves garlic, pressed
1/2 tsp crushed red chile flakes
sea salt, to taste
8oz good-quality dried pasta
3T olive oil
8oz fresh mozzarella, cut into smallish chunks
Put a pot of well-salted water on to boil. Meanwhile, chop the tomatoes into large chunks, and combine in a large bowl with herbs, garlic, chile, and sea salt. Toss and let sit to combine.
Boil your pasta according to package directions, stopping at the al dente stage. Just before the pasta is done, combine tomatoes with the olive oil and mozzerella. Drain the pasta and add it to the bowl with the tomatoes. Toss well and let sit it soak for as long as you can bear the heavenly smell of summer. Enjoy warm or at room temperature.
---
Farmers and food artisans who created the ingredients for this week's recipe:

Thomas Family Farm
, Corralitos: Hard-neck garlic
Bariani
, Sacramento: Olive oil
Belfiore Cheese Company
, Berkeley: Bocconcini
Eduardo's
, San Francisco: Pasta
…and our homegrown tomatoes(!), basil, parsley, chives