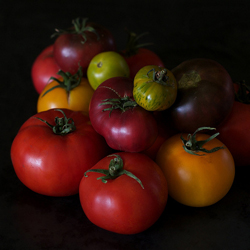 It's finally happening: We're finally harvesting enough fresh vegetables from our garden to make a meal, or most of one. True, this week we still bought tomatoes — although, look how gorgeous they are… can you blame us? By next week at this time, when our first branch of tomatoes is fully ripe, we'll be able to make this recipe without much help from the farmers. This time around, we're proud enough that half the bulk of our One Local Summer dinner for the week came straight from the yard.
To celebrate this harvest milestone, I wanted to make sure that we found a recipe that wasn't diluted with a lot of extraneous stuff. Looking at our bumper cucumber crop, I immediately though of Greek salad, but every recipe I found was almost half lettuce — which seemed a little counter to the occasion. Our lettuce patch is eking along pretty well in our mild coastal climate — we'll have enough to spare for the BLT Challenge later in the month — but it seems a little sacrilegious to bulk up fresh tomatoes and cucumbers with a bunch of leaves. So I improvised a simple salad, and both of us were extremely happy with the results.
We served our garden bounty alongside a coil of grilled Basque-style sausage from our friends at Fatted Calf, and scooped everything up with a batch of homemade pita bread, made with a mix of locally grown whole-wheat flour (from Eatwell Farm) and locally milled Giusto's bread flour. It was, if I dare say so, a feast fit for a Mediterranean deity.
Greek Salad
3/4 pound tomatoes, cut into chunks (about 2 cups)
2 cups cucumber, peeled and seeded if desired, and cut into chunks
1/2 cup diced sweet red pepper
1/4 cup thinly sliced red onion
3 T extra-virgin olive oil
1-1/2 T red wine vinegar
3 T chopped Italian parsley
2 T fresh mint
1 T fresh oregano
1 T chives
—
1/4 cup crumbled feta cheese (about 2 ounces)
Toss all ingredients except feta in medium bowl to blend. Gently mix in cheese, and season with salt and pepper.
---
Farmers and food artisans who created the ingredients for this week's recipe:

Lucero Organic Farms
, Lodi: Heirloom tomatoes
Capay Fruits & Vegetables
, Capay: red peppers
Catalán Family Farm
, Hollister: Red onions
Bariani
, Sacramento: Olive oil
O Olive Oils
, San Rafael: wine vinegar
Spring Hill Cheese Company
, Petaluma: Feta cheese
…and our homegrown cucumbers, parsley, mint, oregano, and chives