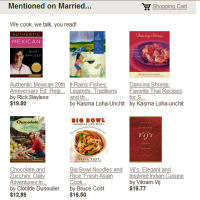 It may have escaped your notice — especially if you're reading the blog through an RSS reader — that we've added a new tab on Married… with Dinner. Ladies and gentlemen, I present you with the Bookshelf.
Pretty snazzy, eh?
The default page shows all of the books we've mentioned on the site, with a link to their Amazon pages for more information. We've also built sub-pages that show our favorite books (those that have earned a slot on the bookshelf cubbies in the new kitchen lab-shelves) and for our entire collection.
Our primary motivation in building out the Bookshelf was a desire to have a handy place to link when we mention cookbooks on our site. And, you know, to let you snoop through our bookshelves without having to drop by the house on some pretense or other.
Full disclosure: If you start your Amazon shopping — for these books or any other products — from our site, we earn a small commission. (You don't pay anything extra, but you get to support us anyway. How cool is that?)