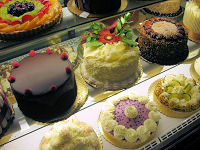 As luck would have it, I'm working right around the corner from the new addition to the Westfield San Francisco Centre — home of the first NorCal outpost of posh grocery Bristol Farms, as well as the foodiest food court this side of The Loft at Bangkok's Central Chitlom department store.
I decided to pass on the food court for now and take a gander at Bristol Farms. Unlike the L.A.-area locations that I've seen, this shop is definitely geared toward the lunch crowd, with passing nods to real groceries. Well, maybe that's not entirely fair: The butcher counter is fully stocked, albeit with shockingly pricey all-natural cuts of meat. (I'm the bozo who paid $21.89 for 2-1/2 pounds of short ribs, yep.) Cheeses, fresh pastas, a full dairy and dry-goods selection… they're all here, and I'm sure the folks moving in to those condo-hotels are celebrating having a real grocery nearby. The produce section seemed a little slim for a store with "Farms" in its name, but I suppose you can't have it all.
I'm not sure if it's because Bristol Farms has such strong ties to the Southland, but I was shocked to find both Bob's Big Boy salad dressing and Clearman's cheese-toast spread on the shelves. Who knows what other SoCal treats are lurking in the aisles?
The pastry and bakery cases are definitely drool-worthy, and the housewares department — across the mall from the main store — looked remarkably comprehensive, if a bit precious. Salad bar, deli, and hot food stations seemed pretty decent, and not terribly overpriced considering the neighborhood. I picked up a pint container of "roadhouse chili" and garnished it with cheese, onions and crackers for just $3.99.
The crowds were still pretty thick, just four days after the grand opening, but a dozen cheerful cashiers kept the queue moving briskly and helpful staff answered questions in the aisles. All in all, a good first visit. And, I have to say: It's just so damned European to have a grocery store in the basement! Maybe we can get our public transit working, now…
Bristol Farms
San Francisco Centre (Concourse Level)
845 Market Street, Suite 10
San Francisco, CA 94103