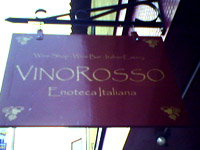 Joni Mitchell Syndrome is one of the hazards of having lived in several different neighborhoods in the same city. The main symptom is the unconscious romanticization of old stomping grounds (see "Both Sides Now (Clouds)"). It's particularly frustrating around mealtime, when the first option that pops into your mind–and will not be dislodged–is a favorite nook that used to lie within walking distance but now entails a 30-minute trek by car, motorcycle, or public transit.
With that in mind, you'll understand how excited I was on Friday night. I was suffering from an acute case of JMS, longing for a quick, informal dinner. "Oh, that I still lived in the Lower Haight," I moaned (to…to myself. Like Mick.), "I could grab a falafel at Ali Baba and wash it down with a few pints at the Toronado."
Happily, at that moment I remembered VinoRosso, a wine-bar-plus-nosh that had opened recently on Cortland, the high street of Bernal Heights. Wine instead of beer…salumi instead of chickpeas…sold!
It was awful.
The space was cute enough, and I thought that I'd scored when a couple along the banquette got up to leave just as I walked in, opening a cozy nook that seemed ideal for a light, relaxed, dinner (I'd brought a book). I remember noticing a couple of babes-in-arms at other tables but didn't give it much thought, as it was early. I could not have been more wrong. I'd only just ordered a glass of pinot grigio and a caprese salad when the little one to my left started screaming…followed by a chorus from the three at the table of parents in a window seat. Mind you, this is not a large restaurant. My table in the back of the main seating area was no more than three or four strides from the door.
I've watched very young children melt down in restaurants. Once the volume goes up and the tears start, the civilized thing to do is to gather the bairn up, walk outside, and commune with the night air until the tantrum has waned. Playing airplane, making whooshing or cooing noises, and offering favorite toys or foods are all acceptable variations, so long as they occur outside.
But while the parents at VinoRosso were in full distraction mode, it was all happening inside the enoteca. Everyone was determined to plow through whatever bottles of plonk that they had just overpaid for. The din was horrific. It was so loud that I couldn't taste the wine. Much to my dismay, I did taste the caprese when it was delivered: rock-hard supermarket tomatoes accompanied by mozzarella so old that it had developed a rind.
A rind. On mozzarella. Ew.
VinoRosso
629 Cortland Avenue
San Francisco, CA 94110
415.647.1268