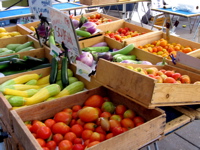 We'd been doing really well, getting to the Ferry Plaza Farmers Market every Saturday morning, for a while. Then houseguests descended, weekend trips took us away… and we kicked ourselves all week long as we suffered with crappy food from the supermarket at the time of year when no sane food-loving soul should ever tread the fluorescent aisles.
We finally found our way back to where we belong today, and with an added bonus: Our friend Carla was in town, and staying right across The Embarcadero from the market! We kidnapped her from her hotel, dragged her to the market for Blue Bottle coffee and chilaquiles at Primavera, then made our rounds: June Taylor for more preserves, Andante cheeses, Frog Hollow peaches, some amazing Charentais melons and bacon avocados, herbal salts at Eatwell Farms, Toulouse sausage from Fatted Calf, a pork shoulder at Prather, the usual assortment of things at Rancho Gordo… I could barely hold the bags when we were done!
Somehow, even in midsummer, it just didn't seem that crowded, so we spent more time browsing, finding lots of tasty ideas for things to cook this week. And to get to spend the morning with one of my favorite Seattle people made it all the more fabulous.