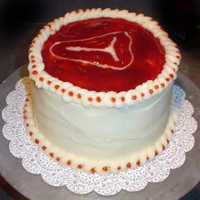 Until today, Bill Watterson's Calvin was the only person who I believed when they called themselves a genius. Or, to properly quote Calvin, a "Super-Genius". But now, Vashti Ross, I genuflect before your greatness. Let's listen to the artist's moment of inspiration in her own words:
He went on to describe his ultimate wedding cake. "I hate that wedding cakes are all girly. There should be like a groom cake to go with the traditional wedding cake. A guy's cake. Like..made out of meat."

A lightbulb went off in my mind. "I could TOTALLY do that," I exclaimed. "A meatloaf! With mashed potato frosting! OH MY GOD!"
Go and be amazed. Props to Don Carne for the tip.