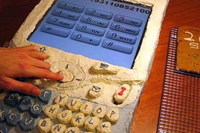 I'll see your meat cake …and raise you a Treo.
The only inanimate thing I love as much as food is my Treo 650. So imagine my amusement when a coworker sent me a link to Engadget's Birthday Cake Contest. All of the cakes were pretty cool, but the winning entry — a "working" Treo 650 cake, complete with video screen, SD card, functional buttons, and sound — is pretty amazing, both as a pastry project and as geek fetish.
Don't miss the video.