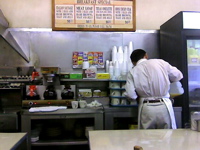 Always on the prowl for better breakfast, we tried out Ann's Doughtnut Sandwich Shop for breakfast last weekend (based on a postive review on Yelp), and.. wow… I mean, I never though I would get nostalgic for the mediocre eats at Al's Cafe Good Food.
First of all, service was surly. We were grunted to a table, and had threadbare menus shoved at us. Actually, make that 'menu', singular — did the waiter really want us to share? Uh, yeah. Sorry, I don't read upside-down in the morning. After trying unsuccessfully to get the waiter's attention, we got up and got a second menu off the counter.
Then we tried to order, only to find out that they don't make poached eggs?? WTF!? I thought this was a coffee shop. Given the choice of scrambled or over-easy, I went with scrambled. No English muffins or sourdough, either — you'll take white or wheat …and *like* it.
We were practically the only people in the place, but for some reason our food took forever to come. When it finally materialized, it looked like a dog's breakfast. The hashbrowns were cooked in nasty artificial-tasting griddle grease, and were totally pale, cold, and underdone. The eggs, on the other hand, were rubbery and over cooked. I don't expect much from diner corned-beef hash from a can, but it should at least be heated through and preferably a little crispy (this was neither). Oh, and as for my toast? Nasty bread with cheap margarine. (–shudder–)
While we were attempting to eat, a guy came in and sat at the counter, and asked for eggs with three slices of bacon, instead of the two slices listed on the menu.
Waiter: "No, it comes with two."
Customer: "Well, I'd like three."
Waiter: "No!"
Customer: "What do you mean, "No!"? I'll pay for it!"
Waiter: "Get out of here!"
(customer gets up, slams menu on the counter, and leaves)
Waiter: "And DON'T COME BACK!"
I felt sick most of the day after eating here. I can put up with mediocre food, as long as it's made with love. But this meal was obviously made with an extra helping of contempt.
Ann's Doughtnut Sandwich Shop
4488 Mission Street
San Francisco, CA 94112
415.334.1761