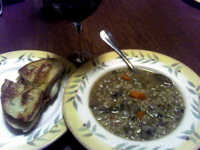 In honor of Passover, I decided to make the Russ & Daughters Mushroom-Barley soup from the NYT Jewish Cookbook.
(Yes, it's shown with a decidely un-Jewish grilled bacon-and-cheese sandwich.)
If I made this soup again, I think I would use a LOT less barley than the recipe calls for. I kept adding more and more liquid, and still it was a bit too much like porridge. I finally gave up — realizing I was going to throw the balance off even more. And it needed a LOT more salt than called for.