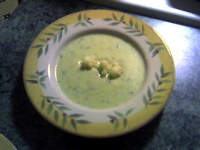 I made the Cream of Cailiflower and Stilton Soup from Epicurious, replacing the stilton with Irish blue cheese. (I had found other Irish cauliflower-cheese soups elsewhere, but they didn't sound as good.)
We served it with corned beef sandwiches.
It was delicious, and I can't wait to have the leftovers for lunch!