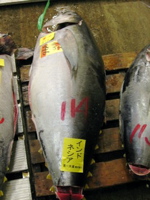 I haven't had time to download all the photos from our trip, but a couple of people have asked me about our experience with the Tsukiji fish market tour.
Nakamura-san and Yoshino-san speak fluent English, and they're incredibly well-versed in the ins and outs of the market. They both used to work in Tsukiji for different wholesalers, and Yoshino-san lived in San Francisco years ago. I am sure that we saw things (like the uni showroom) that we would never have found on our own. Their explanations helped us understand the things we saw, rather than just being amused by the visual experience. If our guides didn't know the answers to a question, they would ask the vendors and show genuine interest in the answers themselves.
The tour costs 7,500 yen (approximately $63/£35) per person. The only tricky part of the operation was the reservation, and even that isn't hard. They've got major spam-blockers running on their email account, so you need to post their message board with your preferred date, and they will email you back.
The first morning, we ate at Sushi-sei, a traditional sushi bar in the outer market. We ordered the middle of the three set menus, and enjoyed everything very much. Nobody spoke any english, but it wasn't a major problem… it just meant that we couldn't chat with the sushi chefs! The second morning, Cameron went to Sushi-zanmai, a more-modern, casual sushi-place a couple of streets over. He said both were very good, but Sushi-sei was measurably better. (I, on the other hand, went to Yoshinoya!)