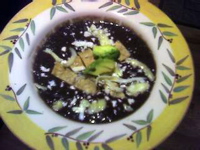 Oaxacan Black Bean: it was delicious. Cam just finished the last of it for lunch today. (Well, not quite… there's another 2 servings in the freezer for one of those "I dunno, what do you feel like eating" nights.)
Next time I would probably add a bit more chorizo, or perhaps sautee another 1/4 pound of it for garnish… most of the long-cooked stuff simmered down and/or got pureed so smoothly that you didn't know it was there. Garnished with some mexican cheese, crisp tortillas, and a little bit of avocado. Mmm….
There's a really dumbed-down version of the recipe I used here. The real version calls for avocado leaf instead of fennel, and pasilla oaxaquena instead of chipotles; the shrimp (which I didn't use) are optional.