(Excerpted from the MouthfulsFood Taco Truck thread)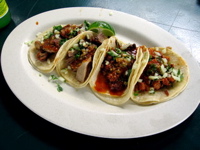 Another fabuloso day of taco-ness…
Cam and I had our tamales from Carniceria El Paisano for breakfast this morning… mmmm! Then we headed down Rainier and met up with Lauren and Rocky at the first taco truck on Rainier, Taqueria Dos Hermanos. Once again, I kept things simple and had a carnitas taco at every stop. Lauren stuck mostly with pork adobada / al pastor for the day; Cam was cabeza-boy; Rocky had lengua, substituting buche when available. (I had nibbles of lots of things, but I'll let the others give you the round-up on their choices.) The carnitas at Dos Hermanos were good, not great. Tacos came in at $1, good mexican soda selection, super-hot (but flavorful) pickled peppers and carrots.
The next stop, the taco bus called El Asadero, was the best of show for me today, probably tied for best carnitas with El Milagro (the market next to Oberto — thanks for remembering, Rocky!). They weren't quite as crispy or salty, but they were shreds rather than tiny cubes, which makes a difference to me. Asadero wins high marks for its garnish bar (rather than the standard 1 lime, 1 carrot, 1 chile that you get at most places) and for a good assortment of beverages. The imported Mexican coke and pepsi were expensive ($1.50, I think) but at least they had them. The oddball thing about this place was they didn't include tax in the prices, so a taco comes out to $1.09.
Our next stop was supposed to be Gorditos II, but they weren't open (my fault, I see now that the P-I list says "Monday through Saturday"), so we proceeded to Malena's in Ballard. As Lauren said when we were discussing it later, it feels odd to call something that costs $2.79 'expensive', but there you have it. Malena's had very limited taco choices (pork, fish, and I think chicken), they were more than twice the price of any others, they were made with standard supermarket corn tortillas, and loaded up with not-good guacamole, pallid pico de gallo, and shredded lettuce. Carnitas were slightly crispy but totally flavorless. The place was empty, not surprisingly. Another Seattle sacred cow bites the dust for me…
Onward to Taqueria Tequila in Greenwood. Nice selection of tacos, various prices from $0.99 to $1.50-ish depending on the filling. Carnitas were good but unremarkable; other items ranged from just OK to very nice. (I think Rocky liked the lengua and Lauren liked the chorizo, which I agree was tasty.)
We met up with Jan (SeaGal) and her husband Gary at Pancho Villa — the menu now says "Mr. Villa", but otherwise it remains as I remember it. We'd earned our cervezas by this point, so we took a load off and ate there. Even though it's a sit-down place, you can order just a single taco, if you like; I think they were $1.50 each. Carnitas were flavorful and slightly crisp, still good. Nice handmade tortillas, lightly griddled. I also couldn't resist trying a chile relleno, which was tasty but needed more sauce.
Our last stop was the taco truck at Northgate and I-5, which we now know is called La Pasadita. A few folks opted for tortas here, which were huge ($4); I stuck with my program and had a carnitas taco (I think they were $1). These were probably the worst of the trip… even Rinconsito's yesterday were better. The pork was flavorful, but the taco was probably half-filled with unrendered fat blobs and not a hint of golden crispiness was to be found. I believe the lengua was spoken of highly here, by Rocky and Gary.
Thanks to everyone for a great day. We're definitely going to have to do another crawl to get the rest of the south end under our belts (literally!), and there was talk of a combined Eastside/Northside crawl, too.