(Excerpted from the MouthfulsFood Taco Truck thread)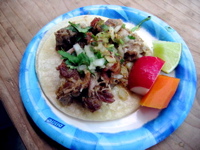 Man oh man…
What a great day we had! Jan and Rocky and I even got to bust out with our spanish at a couple of stops where there wasn't much english goin' on.
The best thing I learned today: Ambaum Avenue is taqueria central. On the way from Zacatecas in 'downtown' Burien to the taco truck in White Center (Fondita II) we passed no less than 6 taquerias — including one with an outdoor parilla — plus a taco bus, and a mexican bakery. The saddest thing was passing them by!
Second best thing I learned today: chicharron doesn't always mean just fried pork rind. There's a meaty kind that they sell at Carniceria El Paisano that's like the best carnitas you ever had. Oh, man. I am regretting not waiting in line to buy some. As it is, we're looking lovingly at the two tamales in the fridge, waiting to get hungry again…
Here are my votes…
Best carnitas: the ones at the market in Kent, next to the Oberto Factory Outlet
Best tortillas: Zacatecas, where they make them fresh
Favorite overall experience: La Fondita II ("with two, you get garnish!")
Saddest slide into mediocrity: El Rinconsito
Best thing I put in my mouth this month: Chicharron at El Paisano
Sue, you have to post all of the names of the places we went to, since we did so many substituions.
We definitely need to do another southside crawl: We hardly touched the P-I's list of trucks, and we literally could do a crawl up and down Ambaum (with a 2-block detour over to 15th for chicharron and tamales at El Paisano).
I'm looking forward to seeing the crew at 11 tomorrow at the first stop on the Seattle tour. We'll wait there until 11:15 or so in case of stragglers, but if we've gone, you can just meet up with us at the next stop.