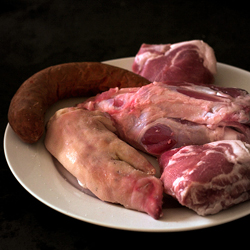 When I first read the recipe that served as the inspiration for this week's One Local Summer supper in the September 2006 issue of Bon Appetit, I knew we would have to make it. The official name of the dish was the prosaic "Spanish Pork Braise", but the real hook was rendered in 48-point type over a stunning photo of braised pork shanks and sunny garbanzo beans: "PORK x4″. Really, have you ever heard of a happier notion? Not just pork — pork four times over!
Of course, with September being the height of San Francisco's Indian summer, the idea of a hearty braise heating up the house wasn't really appealing at the time. But I knew, some foggy summer day in the future, I'd have the perfect recipe at hand.
Finding osso-bucco–style pork-shank pieces at the farmers market isn't really an everyday occurrence (although Marin Sun Farms will do them by special order), so I never found myself hunting down the recipe. But then, last week, while browsing through my recipe file looking for a way to use up some porky odds and ends in the freezer, I rediscovered this captivating clipping. The pork shank I had on hand was whole — we'd brought it home from our pig-butchering class — but a braise is a braise is a braise. Even if pulled meat doesn't look quite as nice as a neatly tied shank steak, it still tasted delicious.
The original recipe is served with a side of garbanzo beans dressed up with a sprinkling of gremolata. We were lucky enough to pick up fresh, green garbanzos at the market last week, and substituted them for canned, after a quick pan-poaching. If you're wondering what to do with the starchy late peas you're finding at the market, I suspect they'd made a great alternative, too.
Pork Times Four
- adapted from Steve Johnson's Spanish Pork Braise, Bon Appetit
4 to 5 pounds bone-in pork for braising
(such as a whole pork shank, or 6 x 2-1/2-inch thick shank pieces, or a meaty soup bone plus large chunks of shoulder meat)
1/2 pig's foot
1 to 2 links Spanish-style chorizo, sliced
2 T extra-virgin olive oil
2 large carrots, medium dice
1 large onion, medium dice
6 large garlic cloves, smashed
1/2 T chopped fresh savory (or 1T chopped thyme)
1 cup medium-dry Sherry
1 28-ounce can plum tomatoes in juice, tomatoes coarsely chopped
2 cups pork (or chicken) stock
3 dried ancho chiles, halved, stemmed, seeded
2 T tomato paste
1-1/2 tsp ground cumin
1 tsp ground coriander
—
2T olive oil
3 cups cooked garbanzo beans
1 large clove of garlic, minced
large pinch of saffron
1/4 cup chopped parsley
2 thin slices proscuitto or ham, minced
1/2 cup chopped toasted almonds
1T grated citrus peel, preferrably orange
Preheat the oven to 350°F. Sprinkle pork and pig's foot with salt and pepper. Heat a wide Dutch oven over medium heat, and add the chorizo slices. Saute the chorizo, adjusting heat as needed to render the fat and brown the meat. Remove the browned chorizo to a plate using tongs or a slotted spoon. Increase heat to medium-high, and saute the pork until brown, turning to caramelize all sides. (Depending on the size of your pan, you may need to work in batches. If your chorizo is particularly lean, you may need to add some additional oil.) Remove browned pieces to a plate or baking sheet, and reduce heat to medium low.
Add carrots, onion, garlic, and herbs to the pan, and cook until onion softens, about 4 to 6 minutes. Add the sherry to the pan, and deglaze. Add the tomatoes and their liquid, stock, chiles, cumin, and coriander. Bring to a boil, and return browned meat, chorizo, and pig's foot to the pan. Return to a boil, then cover and place in the preheated oven. Braise until the meat is tender and just pulling away from the bone, 90 minutes to 3 hours.
When meat is cooked through, de-fat the sauce with a spoon. (Alternately, you can cool the mixture and refrigerate overnight; the fat will solidify and be easily removed the next day.) If the sauce remains chunky, you may want to remove the meat and puree it with a stick blender; if so, take care to leave some texture.
Heat oil in a skillet over medium-low heat. Add beans, garlic, and saffron, and saute until heated through. Mix in the proscuitto, and season to taste with salt and pepper.
Mix together parsley, almonds, and zest in a small bowl.
To serve, place equal amounts of pork on 6 plates, spooning sauce around. Serve garbanzos on the side, and sprinkle the whole plate with gremolata, reserving some to pass at the table.
---
Farmers and food artisans who created the ingredients for this week's meal:

Devil's Gulch Ranch
, Nicasio: Pork shank & picnic meat
Marin Sun Farms
, Point Reyes: pig foot
Fatted Calf
, Napa: Chorizo
Bariani
, Sacramento: Olive oil
Mariquita Farm
, Watsonville: Onion, savory
Hunter Orchards
, Grenada: Garlic
Tierra Vegatables
, Santa Rosa: Ancho chiles & carrots
Short Night Farm
, Dunnigan: Green garbanzo beans
Boccalone
, Oakland: Proscuitto
Star Route
, Bolinas: Parsley
Alfieri Farms
, Esaclon: Almonds
Paradez Farms
, Exeter: Blood orange…plus our own home-canned tomatoes & paste (from Mariquita's tomatoes), homemade pork stock, and homegrown coriander.