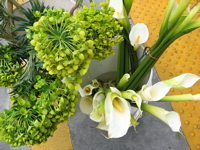 We didn't by any plum buns or fat hogs — although we did buy both pâté maison and calabrese sausage from the Fatted Calf, so I'll take that last one on points. But we did spend a very chilly late morning at the market Saturday. By some miracle, the dogs let us sleep until 9:30, so we were on the late shift, but still mostly alone in the artic air.
Chilaquiles? Sí, por supuesto! (And also delicious tacos de pollo hiding under some rather insipid guacamole.) We made quick rounds of the veggie stands, admired some of the first signs of spring — plenty of blossom-studded boughs, stacks of baby onions, and buckets of tulips and calla lilies to make you glad you left your nice, warm bed.
I'm getting a chill just thinking about it, though. Damn, it was cold! Quick, inside the building, chat up the guys at Prather, flirt a bit, get a lovely flat-iron steak for the grill and one of those heritage chickens we're hearing so much about. (That'd be $15-ish each, not per pound, thank god.) After warming up — and a stop at Miette, of course — it's back out front to pick up chips, tortillas and Yellow Eye beans from Rancho Gordo… where Steve tells us we just missed Alan Richman from GQ and that the NY Times will be singing his praises two weeks hence. Let's hope he remembers us when he's well and truly famous.
All in all, a successful re-entry into San Francisco. The kitchen's coming along nicely, too — but it's all under tarps at the moment, so the promised update will have to wait.
In the meantime, there are more market photos here…