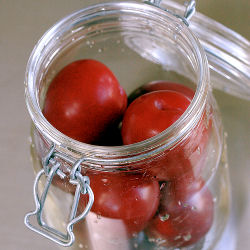 Last year, we used Italian-style prune-plums, as they're abundant (to say the least) in our old Seattle neighborhood; we used to get giant bowls full from neighbors who begged and pleaded with us to take more. This year, we used more typical round plums — both red and black varieties — that came in our CSA produce box.
They're good right away, but better after a couple of weeks. Honestly, the plums are fine — they make a great substitute for cherries in clafoutis — but the real draw is the plum-infused brandy cordial.
Leftover infused brandy is great in soda water or champagne, or over ice cream.
Madison Valley Brandied Plums
3 pounds plums
1-inch-long stick of cinnamon
2 cups sugar
1 cup water
1/4 tsp salt
2 cups brandy
Boil a stockpot of water as deep as the shoulder of your canning jar. (I use a 2-quart hinged-lidded jar for a full recipe — you can always portion into smaller jars for giving away once they're done.)
Wash and stem plums. Prick several holes around stem ends. Pack plums into the canning jar. Quarter and pit remaining plums and re-pack, placing quartered/halved pieces in gaps that form between whole plums. Add cinnamon stick.
In a 2-quart saucepan, bring sugar, salt, and 1 cup water to a boil, then turn to low and simmer 10 minutes, stirring occasionally. Let cool for 10 minutes, then stir in brandy. Immediately pour liquid into jar up to 1/2 inch from the rim.
Partly close jar, leaving room for steam to escape, and place in boiling water for 5 minutes. Carefully remove jar with a jar-lifter or 2 sets of tongs, and close the lid. Cool to room temperature, then refrigerate.