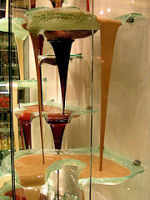 On the way to take my sister to the airport for a red-eye flight, we decided to stop off at Bellagio to check out the massive pumpkin patch and have dessert. We wandered through the conservatory, eyeing dozens of exotic and enormous pumpkins, many of which topped 500 pounds. We also spied a few plant-sculptures of Mallard ducks, which appeared to be made partly of broccoli and cauliflower!
Right next door to all this healthy fodder, you'll find Jean Philippe Patisserie. In addition to eye-popping mini-desserts, luscious gelati, and crepes made to order, Jean Philippe is also home to the world's largest chocolate fountain.
Now, when I heard the words "giant chocolate fountain", my imagination conjured an overgrown version of one of those gadgets you'd find at a bad Jersey wedding. But I should have known that the Bellagio wouldn't stoop to something so crass. [cough]
Here's an excerpt from the press release announcing the fountain's debut:
Standing 27-feet tall, the masterpiece circulates nearly two tons of melted dark, milk and white chocolate at a rate of 120 quarts per minute. [...] Three rivers of dark, two of milk and one of white twist and swirl from vessel to vessel, flood across then spill down to the next carefully positioned receptacle. The colored streams and vessels are staggered, creating a mosaic effect in earthy shades of cocoa, gleaming viscous surfaces and refracted light. Having finished their acrobatic tumble down the tiers of this colossal chandelier, each rivulet funnels into hidden melting tanks, recollects and begins the journey once more.
Sounds like a bunch of PR hype, but in fact, the darned thing really is mesmerizing. Neither the statistics nor my photos do it justice.
Being as it was a Sunday evening, the pastries were rather picked over and looking much the worse for wear. I chose a lemon-meringue tart, which tasted like it had been sitting around for more than just the workday. Mom and Sis wisely opted to share a scoop of chocolate gelato and a bananas Foster crepe. The crepe was nice, although the banana topping looked pretty sorry — no great surprise, as it was kept warm in a hot-fudge pot. The gelato's deep, bittersweet flavor was my favorite taste of the evening — and I'm not even a chocolate lover.
I'm sure I'll give Jean Philippe another try, perhaps earlier in the day when the pastries are fresh… if only to see that fountain again!
Jean Philippe Patisserie
3600 S. Las Vegas Boulevard (inside Bellagio)
Las Vegas, NV
702.693.7111